Routine and therapeutic bathing services are available. We provide bathing, nail trims, ear cleaning, & anal gland expressions by appointments only. If other grooming services are needed, appointments can be made through Becca Rodrigue with the Pretty Pups Grooming Salon. Her grooming facility is located in our clinic and is by appointment only.
If you are unable to get your pet in for a bath or grooming, we have several products available that can help keep your pet smelling and looking good until their next visit. We recommend the following products:
We carry various Virbac Shampoo products for different skin problems your pet may have. We recommend using the Allergroom Shampoo for routine bathing. It is sensitive on the skin and can be used 2-3 times a week. The other medicated shampoos that we carry are prescribed when your pet has a certain skin issue that needs topical treatment.
---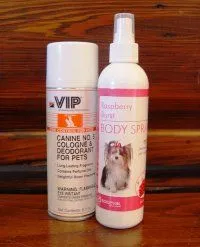 Pet colognes are a great and cost effective way to keep your pet smelling good between bath times. Colognes can be used on a daily to weekly basis as needed.
---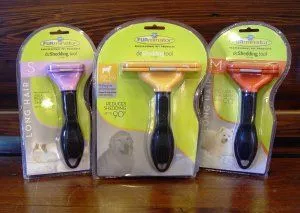 A Furminator is a great tool for helping with unwanted shedding that comes along with most of our cats and dogs. It works by simply removing the undercoat of the pet that is already starting to shed. Using the Furminator once a week will help decrease the amount of loose hair found throughout the house. It will also give relief to outdoor pets during the hot summer months.