Our dental services include teeth cleaning and polishing, tooth extractions and minor oral surgery. Before a dental procedure is performed, we recommend pre-anesthetic blood work to screen for any underlying illnesses or abnormalities your pet may have. 10% of pets that appear healthy to owners and veterinarians are found to have hidden diseases.
A dental cleaning is an out-patient procedure for dogs and cats. The pet will be admitted in the morning between 7:30 a.m. - 8:00 a.m. and are ready to be discharged between 3:30 p.m. - 5:00 p.m. depending on anesthesia recovery status. Dental estimates are given before and/or at the time of check-in. Estimates are based on the weight of the patient and the severity of the dental disease. Extra charges such as extractions are only performed with the consent of the owner. All patients who have a dental procedure will go home with a dental oral care sample bag. Routine at home oral care can prevent dental disease and prolong their next cleaning. Below is an informative video on the proper way to brush your pet's teeth.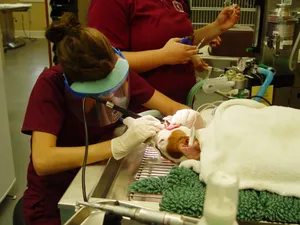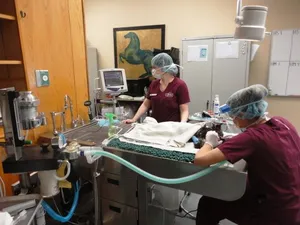 The images below show the before & after of a dental scaling.