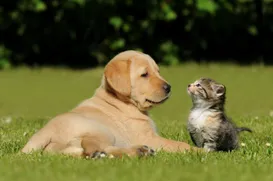 Puppies & Kittens
6 weeks - 5 months
A visit to your veterinarian for a well puppy or kitten exam should be one of the very first things you do after bringing home a new puppy or kitten. Young puppies and kittens need wellness examinations throughout the first few months for physical and behavioral evaluations and to receive vaccinations. Unvaccinated puppies and kittens are more susceptible to disease and illnesses, just like a newborn baby, this is why their first few visits to the vet are so important.
At every wellness visit your pet will be given a thorough examination by your veterinarian. During these examinations, the veterinarian is checking your pet's weight, temperature, heart & other vital organs, oral health, ears, ears, and skeletal and muscular structure.
Puppy and kitten vaccinations vary upon environmental situations. Let your veterinarian know what kind of environment your pet will be exposed to, whether they are indoor/outdoor, may encounter ticks, will be used for hunting, etc.
Puppy Wellness
6 - 8 weeks
Examination

Fecal Exam

Vaccinations

Heartworm/Flea Prevention
9 - 11 weeks
Examination

Fecal Exam

Vaccinations

Heartworm/Flea Prevention
12 - 14 weeks
Examination

Vaccinations

Heartworm/Flea Prevention
14 - 16 weeks
Examination

Vaccinations

Heartworm/Flea Prevention

Spaying/Neutering Estimate & Information
---
Feline Wellness
6 - 8 weeks
Examination

Fecal Exam

Vaccinations

Feline Leukemia & FIV Test

Flea Prevention
9 - 11 weeks
Examination

Fecal Exam

Vaccinations

Flea Prevention
12 - 14 weeks
Examination

Vaccinations

Flea Prevention
14 - 16 weeks
Examination

Vaccinations

Flea Prevention

Spaying / Neutering Estimate & Information